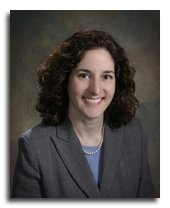 Laura has been with Schmick Law Offices, P.C. since 1996, and handles a wide range of business and corporate matters, including acquisitions, commercial financings, secured transactions, drafting and negotiating contracts and other documents, formation of new business entities and various employment-related matters.
Laura received her A.B. from The University of Michigan in 1992. Laura received her J.D., with honors, from The George Washington University National Law Center in 1995, where she published an article in The Environmental Lawyer.
Laura is a member of the American Bar Association, The State Bar of Michigan, and the Washtenaw County Bar Association.